A must-see
article | Reading time5 min
The castle
The majestic château is a vestige of feudal, then royal, power. Relive the evolution of this stately home in the heart of the medieval city of Carcassonne.
From palatium to fortified castle
In 1067, the Trencavel family, nobility from south-eastern France, received the viscounty of Carcassonne. Over the years, they ordered the construction of numerous buildings, including the palatium, a seigneurial residence, around 1130.
Built on the Gallo-Roman rampart, it is a veritable urban palace ! During the 12th century, the palatium was progressively enriched by several extensions, including the chapel of Sainte-Marie to the north and a new wing to the south. The Trencavels were determined to make Carcassonne the centerpiece of their estate. This residence was both the seat and symbol of their feudal power !
During the Albigensian Crusade (1209), the residence was fortified. Crenellations were added to the roofs, turning them into firing posts. On the western flank, the Pinte tower was raised to provide better surveillance of the surrounding area. It became the tallest tower in the fortress, a way for the owners to reassert their power.
Later, in the 13th century, the construction of a second rampart completed the transformation of the original palatium into a fortified castle. From then on, Carcassonne was an impregnable stronghold!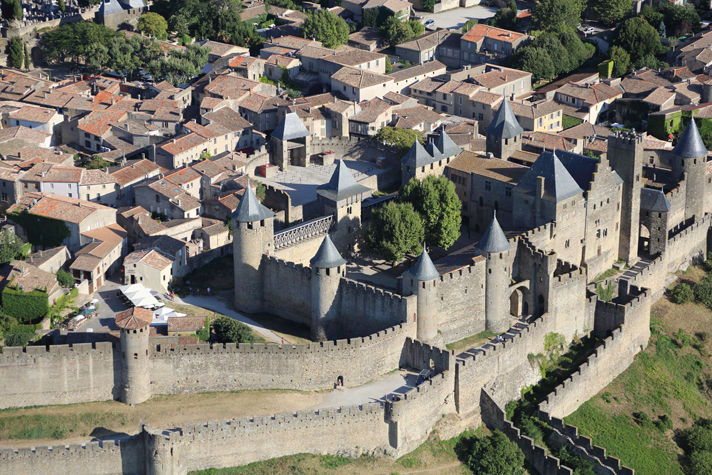 In 1226, the Cité was annexed to the royal domain. The castle became the home of the seneschal, an officer appointed by the king. The surrounding wall protected the seneschal from the Carcassonnais, whose loyalty to the sovereign was not yet secure!
Gradually, the town became an administrative and military center, and major works were undertaken to redevelop the citadel. In the early 14th century, a building was erected on the site of today's Cour du Midi, featuring a large hall with a fireplace and Gothic windows. The first floor of the south-east wing was also divided into large rooms, where the seneschal exercised his authority. In addition to its defensive and military functions, the château now plays a residential and political role.
This is no coincidence: the Cité is a strategic location in the rivalry between the kingdoms of France and Aragon. This situation lasted until 1659 and the signing of the Treaty of the Pyrenees, which ended the Franco-Spanish war launched in 1635. The complex was then abandoned until the 19th century, when it was restored by Eugène Viollet-le-Duc. Today, it has been restored to its former glory and fascinates millions of visitors every year!
Come and decipher the architecture of the Château de Carcassonne during a fascinating guided tour!