A must-see
article | Reading time5 min
An iconic silhouette
The medieval city of Carcassonne dominates the banks of the River Aude. Castle, towers, ramparts: discover the other side of its legendary silhouette!
A majestic medieval fortress
During the 13th century, the city of Carcassonne was besieged several times. It was at this time that the town took on the imposing appearance we know today. Why not take a closer look?
Dominating the ensemble, the castle is a fortress within a fortress! Built from the Trencavel palatium, it has undergone numerous modifications. The roofs were crenellated, transforming them into firing posts, and a lookout post, the Pinte tower, was raised. Other towers, such as the Tour du Major, were pierced with loopholes, while two barbicans and a moat defended access to the château. Splendid and imposing, it is the embodiment of feudal power!
Let's move on to the ramparts. The outer wall is equipped with three barbicans and two watchtowers, one to the east, the other to the west, to keep watch over the surrounding area. It also has fourteen towers, like those of La Glacière and La Peyre. As for the inner wall, it has twenty-four towers! Leaning against the wall is a large rectangular block. Known as the Trauquet ("little hole" in Occitan), it was used to conceal the entrance to an underground passageway leading from the lices. to the outside of the Cité. Finally, nearby stands the impressive main entrance to the Cité: the Porte Narbonnaise!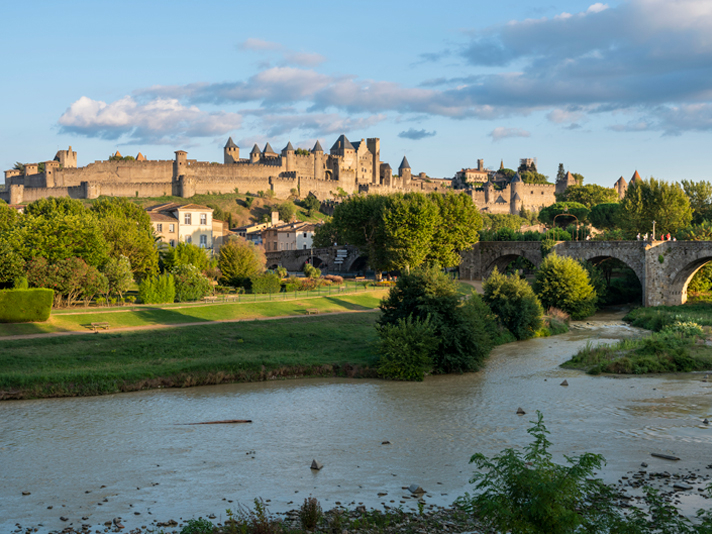 At the end of the 13th century, kings Philippe III le Hardi and Philippe IV le Bel decided to equip Carcassonne with new fortifications. Around 1280, the Porte Narbonnaise was built to defend the main entrance to the city.
Formerly known as the Porte de Pressan, it was designed as an independent fortification. It consists of two towers, each 30 meters high. Built in the shape of a spur, they are joined on the second floor by a large guard room. They also serve as storerooms, one with a cistern and the other with a cellar. The massive gate is equipped with a system of stunners, harrows and machicolations. Finally, the Narbonnaise gate is itself protected by the Saint-Louis barbican, located directly opposite!
While the Porte Narbonnaise is a complete defensive system, it is also a symbol of royal power. From here, you can see the foothills of the Pyrenees, beyond which lies the kingdom of Aragon, with which France is in conflict. By making Carcassonne a military stronghold, the kings of France were sending a clear message!
Abandoned after the 17th century, Carcassonne also owes a great deal to Eugène Viollet-le-Duc. In the 19th century, the architect carried out the largest restoration project of his career here! Since then, the medieval city has been restored to its former glory. Come and discover its secrets on a guided tour!